Often we think we are not racist, but there are things we do that make ethnic minorities (EMs) feel excluded or inferior. As a Chinese person myself, working with ethnic minorities has taught me about micro-aggressions, the small but everyday things that are racist without knowing they are.
To not be racist is not enough.
​As Chinese people represent 92% of the Hong Kong population, if racism is to end in the city, it would need the majority population to help change negative beliefs. To be an anti-racist, I understand that I need to be proactive about calling out racism in Hong Kong. I hope that you will also commit to being an anti-racist.
​This toolkit will take you on an info-packed journey to help you understand and become an anti-racist in Hong Kong.
​I am still learning, and I welcome any thoughts or comments you have. Contact me at: info@zubinfoundation.org
​Thank you very much for using this toolkit.
​Matthew Yu
Project Manager
The Zubin Foundation
通常我們認為自己並不是種族主義者,但我們的所為卻讓少數族裔 (EM) 感到排斥或令他們自卑。 作為一名華人,與少數族裔的工作教會了我關於微歧視 (micro-aggression)。各項日常小事竟是種族主義的行為,而我們卻不自知。
​做一名非種族主義者並不足夠。
​華裔人口佔香港百分之 92。如要在這城市結束種族主義需要廣泛市民來改變原有的負面信念。而作為一名反種族主義者,打擊種族主義需要更積極、主動地行動。我希望你也能成為一個反種族主義者。
​此工具書將提供豐富資訊,帶你認識少數族裔並逐步實踐成為一位反種族主義者。
​我還在學習中,如有任何想法或意見,歡迎電郵至 info@zubinfoundation.org。
​感謝你使用這個工具書。
​
Matthew Yu
計劃經理
小彬紀念基金會
Download A Copy / Read Online
First Edition: 20 Oct 2022 | 初版: 2022 年 10 月 20 日
Download A Copy
▼ Click on the Toolkit Cover below to access the Toolkit (PDF – 56 MB) ▼
▼ 點擊以下封面下載工具書 (PDF – 56 MB) ▼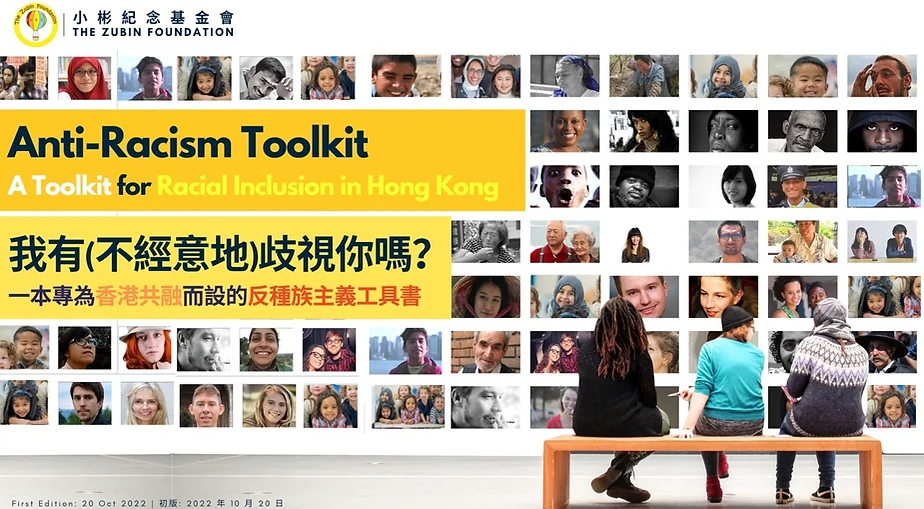 Read Online
▼ Read Anti-Racism Toolkit Online Here ▼
▼ 在線閱讀反種族主義工具書 ▼​
Support Your Diversity, Equity and Inclusion Journey
協助你推動多元、平等、共融工作
Examples Cited in the Toolkit
工具書提及的例子