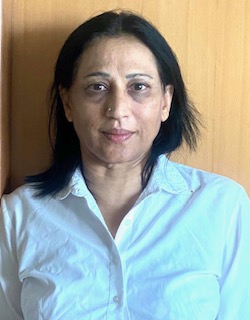 Geetha Nagendra
Geetha is a mental health counsellor at the Ethnic Minorities Well-being Centre. She has experience in counselling adults and adolescents with depression, low self-esteem, anger management, and aggressiveness. She has also volunteered at the Children's Counselling Centre with phobia, anger, and low self-esteem.
Prior to taking up counselling, she worked as a teacher in a secondary school in Hong Kong for more than two decades. She holds a Master's Degree in Counselling from Monash University and a Master's degree in Applied Linguistics from the University of Hong Kong. She has also completed the Acceptance and Commitment Therapy online Course and EMDR, Part 1.
She has trained as a Yoga teacher and incorporates mindfulness concepts, breathing techniques and deep relaxation strategies from Yoga in her counselling. She is also the founder of a registered charity in Hong Kong that focuses on the education of girls in India and also on running projects that benefit the Hong Kong community.